3 Home Design Secrets To A Calm, Inviting Passover For Your
Posted on 27 March 2023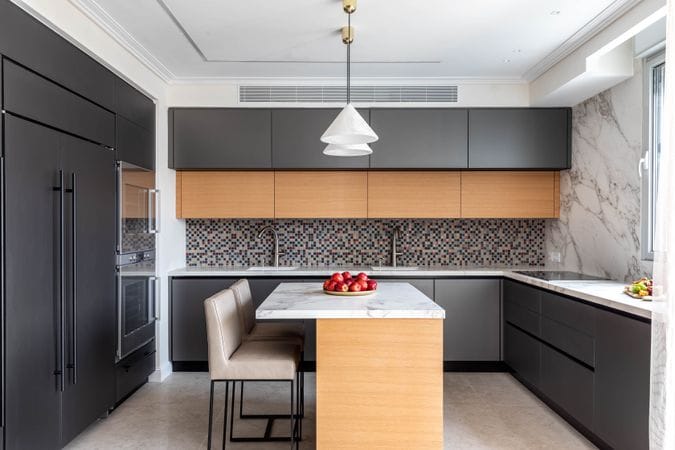 Passover is the time for celebrating our freedom, but until you sit down to your seder, the atmosphere can be one of anxiety and stress. This year I'll hosting our immediate and extended family for the holiday. My parents have already arrived, and my daughter and son are coming from Canada with their family and girlfriend. I can't wait to give my granddaughter the hugs and kisses that only a grandmother can.
Whether it's just your immediate family or many guests, you'll want to make your home as inviting as possible. Here are my secrets for making your Passover calm and enjoyable.
1. Smartly plan your kitchen
Planning is essential to help you organize for the holiday. You should be able to easily take your dishes and cookware out of storage. When designing kitchens for my clients, we always discuss their needs for cabinets to ensure the Passover dishes are separate from all year round.
As a professional Interior Designer, there are a few solutions that I recommend :
Create 2 sets of cabinets - Above the counter in my kitchen, I have lower cabinets for everyday dishes and separate higher cabinets for Passover. This way, I don't have to take time shuffling dishes around. I just reach for them and have them ready to use.

Install deep cabinets - The solution for one of my clients was a second set of deeper upper cabinets. These cabinets provide plenty of Passover storage and are easily accessible when needed.

Tall cabinets on wheels - This out of the box and creative solution allows my client to have double tall cabinets within a niche. Plan a tall cabinet on wheels inset within a niche for Passover storage and a second tall cabinet on wheels in front for your everyday storage needs. As Passover approaches switch the cabinets rolling out the inset cabinets and rolling in your everyday ones.
A professional Interior Designer can help you properly plan your kitchen with clever storage solutions to prevent shuffling pots, pans, and dishes, giving you more time to enjoy your family.
2. Design inviting bedrooms
In addition to smartly planning your kitchen, you want to create inviting spaces for guests staying with you during Passover. In Israel, the rooms tend to be smaller than in the US and Canada. Though I recommend purchasing beds in Israel rather than shipping them, we'll discuss your individual lifestyle needs to see what works best for you.
There are great solutions to allow multiple guests to come and stay with you comfortably in your home in Israel.
Purchase sofabeds - Sofabeds are an excellent solution for guestrooms, home offices, and living rooms. When you don't have company, they are folded, used for seating, and take up less space. You may think that the mattresses aren't comfortable to sleep on, but I've had great feedback from multiple clients about one of my suppliers.

Install a Murphy bed - Murphy beds are a space-saving solution in a multipurpose room. Planning is needed so that it's built into the rooms floor plan. Once ready, just pull it down from the wall and get ready to snuggle up.

Use Trundle beds - You'll be amazed at the amount of models available for this innovative bedding option in Israel, where beds go underneath or above one another, expanding to create those extra sleeping spaces you need.
When designing your home in Israel, choose the bedding that will allow your family and friends to visit and stay comfortably with you.

3. Add the finishing touches
As you've prepared your kitchen and have enough sleeping space, it's often the finishing touches that make your home most inviting. If you don't have time for a new coat of paint to brighten the room, the cleaning will still give a freshness to your home. Moving items around or buying new pillows always helps to give your spaces a new look and feel.
You can make your guests feel at home by giving them space to store their personal belongings and creating a small basket of toiletries for items they may have forgotten. And, of course, you'll provide them with clean linens and fresh towels.
I love to have freshly-cut flowers to match the space's decor and give the room a burst of color.
Create a calm and inviting home for Passover
Passover is a time of joy, the start of spring and new beginnings. The more planning you do when designing your home, the less stressful the preparations for the holiday will be. Design your kitchen with enough smart storage so the juggling of dishes will be minimal. Select bedding solutions that can accommodate your family and friends comfortably. The small details and finishing touches often create the elegant ambiance you want your guests to feel in your home.
If you are planning on making aliyah or are thinking about designing a home in Israel so this year you and your family can truly say, "Next year in Israel," contact me at 052-308-9779.
Wishing you and your family a happy and kosher Passover.
Click
here
for tips on decorating your Passover Seder Table
Join our mailing list
to get beautiful tablescapes, design tips and so much more delivered straight to your inbox.