Start The New Year In Your Elegant And Stylish Home In Israel
Posted on 13 September 2023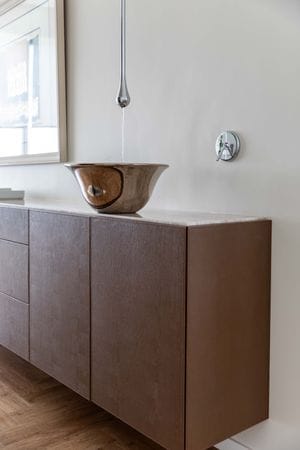 It's a New Year, a time for new beginnings. And Israel is booming with new construction all over the country. We even joke that the national bird has become the crane. With so many new developments, I get really excited. As a professional interior designer and an Olah from Canada living in Israel for 18 years, I'm delighted by how the country is growing. And what better way to have a fresh start than to make this the year you fulfill your dream of designing your home in Israel? Perhaps you'll spend Rosh Hashana in Jerusalem next year in your new home.
There is nothing like celebrating the High Holidays in Israel. There's the hustle and bustle in the stores as everyone buys new clothing and all the ingredients for delicious family holiday meals. To be fortunate to move to a new home at the start of the new year is truly special. And you deserve to have that blessing.
Here's a sneak peek at how my clients Nicole and Reuven are starting their new year in their new home.
Create your custom design early in the process
Nicole and Reuven had anxiously awaited the keys to their new home, a penthouse apartment of a 10 story building in Jerusalem. They bought the house early in the process. When they hired me, the apartment was already built and the walls and flooring were all in place. Builders constructed their layout, but Nicole and Reuven needed customization, furnishing, custom carpentry and someone to coordinate all aspects of the project to create an elegant home aligned with their lifestyle.
When you want a customized home, the earlier you engage with a professional interior designer in new construction projects, the better. I also recommend purchasing in the early phases of the project to give you flexibility with the construction.
We designed a beautiful living space filled with elegance and comfort while maximizing storage space for functionality. Nicole and Reuven installed herringbone hardwood-style flooring throughout the apartment. Wood flooring brings a feeling of warmth and comfort to the space. When planning to install wood flooring, make sure to inform your contractor of the thickness in advance to accommodate your selection. After all, the last thing you want is a floor that you weren't planning on or the extra expense and stress of removing tiles only to install the ones you really wanted.

Now Nicole and Reuven are ready to host family and friends to celebrate the New Year.
Considering the planning and construction time, it isn't too early to start planning your custom home in Israel for next Rosh Hashana.
Upgrade the design for your lifestyle
Similarly, as in selecting flooring, the earlier you make the designer aware of how you live, the easier it is to create a home tailored to your lifestyle.
When contractors build homes, they have generic layouts and don't always know your long-term plans for the spaces. As a professional interior designer, I collaborated with Nicole and Reuven to customize their daughter Sarah's spacious bedroom. With ample room available, we planned for a large bed with a 220cm headboard so Sarah could feel like a princess. Based on this design choice, electrical plans were needed to ensure outlets and lighting fixtures were properly placed. Sarah is delighted with lamps for reading in bed and outlets to conveniently plug in her phone for charging.

With a new construction, you have the flexibility to design your home based on your wants and needs.
Nicole and Reuven also wanted a workspace. By adding sliding glass partitions, they can close off the space whenever they need to have private business conversations. With built-in custom carpentry, Nicole is happy to have closed storage spaces and a closet to hide the washer and dryer. The handwashing Netilat Yadayim station near the kitchen has a sleek design and is in the perfect location as you go from the living room into the dining room. A custom home considers how your family functions and creates a design for your unique needs.

Customize your new construction home for your family's comfort and style by customizing your selections.
Start the year in elegance
Like Nicole and Reuven, you could design your home in Jerusalem and begin the year in an apartment custom-designed to align with your lifestyle. Imagine fulfilling your dream of having an elegant home in Israel or an apartment to vacation for Rosh Hashana and the T'shrei holidays.
A home in a new construction project allows you to create a custom design tailored to your lifestyle. Begin as early as possible to have the most home design flexibility. You can upgrade the standard package for a beautiful design that functions optimally for how your family lives.
If you are ready to design your custom home in Israel so you and your family can celebrate the future New Years in elegance, comfort, and style, contact us to book a consultation at 052-308-9779.
L'shana Tovah. May your New Year be full of good health, happiness, and blessings.
Join our mailing list
to get beautiful tablescapes, design tips and so much more delivered straight to your inbox.