Jerusalem Inspired
Posted on 29 May 2022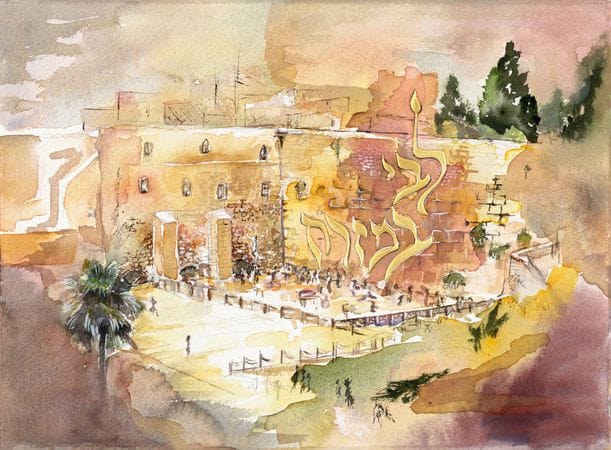 The uniqueness of Jerusalem is captured in it's beauty. A beauty that is seen through different eyes, felt through different hearts and internalized through different souls with so many commonalities that inspire us all.
Jerusalem is the the heart of the world. The city pulses with life, vitality and a fiery and beautiful energy. At times feeling intense and at times so deeply quiet and profoundly still, able to touch the holiness from within. Just as the heart pauses between beats, to receive new and fresh life-giving energy, so to does Jerusalem. Jerusalem has taught Avigail Wieder how to do and how to be, how to create and how to rest, how to fill yourself with feelings of gratitude, love and abundance and then create and share with the world that which you feel called to do. Jerusalem inspires Avigail's work daily to create Jerusalem paintings and artwork so that where ever you live, you can make space for Jerusalem, in your heart and your home.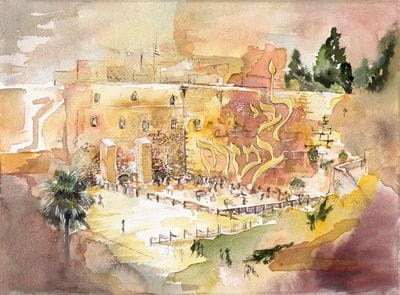 Zissie Erlanger enjoys strolling through Machaneh Yehudah Market, she soaks in the aromas and admires the abundance of the fresh ingredients. It is there that she gains her inspiration for creating events and menus. Zissie's Jerusalem home kitchen is the heart of her home which is surrounded by luscious greenery, colorfully eye catching flowers, hummingbirds, fresh fruit trees and herbs, butterflies and a forest nearby. After a full day of cooking and menu creation, and after the sun sets and the heat of the day is forgiven by the refreshing night air, Zissie kicks back in her garden, facing the Jerusalem skyline with a glass of wine and a shuk inspired flavour bursting meal and thinks to herself "wow, thank you G-D, I can't believe I get to live here".
When Tova Heller made Aliyah in 2015, she chose Jerusalem, the capital of Israel, as the only place she would choose to live. Living in Jerusalem, getting married and raising children in Jerusalem, is a privilege and a dream come true. Through her business activity of taking families and groups on Machane Yehuda Shuk Experience tours, Tova capitalizes on the opportunity to highlight the beauty and excitement of Jerusalem. She never takes it for granted and is grateful to G-d for the blessing of living in His holiest city of Jerusalem.
Jerusalem is the center of the universe - spiritually, historically, and geographically. Talia Osiel is counting the days until she and her family make this holy city their home when they make aliya this summer. She and her family can't wait to walk on the ancient stones and add their own journey to the collective journey of the Jewish people.
Jerusalem is home. Nechama Fass, considers herself lucky to be living in this beautiful city full of culture and spirituality. As an artist, Nechama incorporates the city's beauty into her work and craft and is grateful to have the opportunity to showcase this beautiful city through her eyes and art.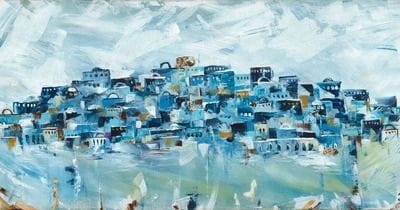 When Joanna Shebson made aliyah from Los Angeles and started raising her family in Jerusalem, she was inspired to show others the fun side of Jerusalem. She looked for ways to show how history can come alive and be interactive and meaningful. For ways to introduce young local artists and craftsmen from Jerusalem to families. For ways to show families the role of food in Jerusalem's past and present. But most importantly, Joanna enjoys showing people across the world how Jerusalem is an incredible city for children to live in as well as visit.
When Sharon Altshul moved to Jerusalem 16 years ago, for the first time in a long time, she found herself without a vehicle. Considering that there was so much to see in Jerusalem and that she would be walking to most of her destinations, she launched her photo blog - The Real Jerusalem Streets. In her photo blog she shares images of what's really happening in Jerusalem, most often not what's in mainstream media. Sharon loves to lead photo walks for Anglos and share the hidden beauty and sites of the city. There is so much happening in Jerusalem. Jerusalem hi-tech, Femtech and culture are a few areas she likes to cover and share in her blog.
Rochelle Zupnik has felt an attachment to Jerusalem since the time she studied here and her many subsequent trips back. As a Judaic Studies teacher, Rochelle enjoys sharing her love for the city with her students as well as her own children and grandchildren. As a vounteer of the American Communities Helping Israel she encourages purchasing Israeli products to boost the Israeli economy.
Jerusalem is the collective heartbeat of the Jewish nation. It's our past, present, and future. The Torah marks it as the center of our existence and as the destination for all of our prayers. Ronit Friedman loves walking through the streets of Jerusalem, both ancient and new. As a fine artist, Ronit's goal is to capture the special unique character and beauty of Jerusalem with her brush strokes, thereby inspiring her viewers, and touching their souls.

Join our mailing list
to get beautiful tablescapes, design tips and so much more delivered straight to your inbox.