How To Choose The Perfect Interior Designer For Your Home In Israel
Posted on 25 June 2023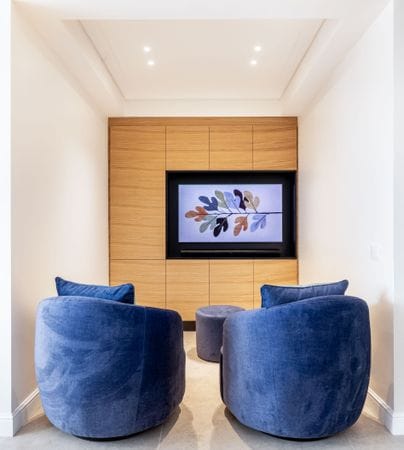 Is there a better place to have a vacation home than in Israel? Maybe your children have made aliyah, and you want a place to live when you visit your grandchildren. There's nothing like having a space to create new memories when you play with your grandkids. However, staying with your family is not always possible, and you probably like to have your own place to relax. Having a vacation home is an excellent solution since it's more comfortable than a hotel and can be designed the way you want with all the comforts of home.
Or you might be thinking about making aliyah, living in a new home in a new country. You're ready to take the bold step, move to Israel, and you want a place where you feel at home. Whether you want a vacation home or are planning aliyah, creating a home from abroad is challenging. Being far away, it's probably stressful wondering how to design a home that will align with your unique personality.
To help you relax and relieve the tension, find an interior designer who will put love and attention into designing your home.
After all, your home is an expression of your heart and soul. It's more than where you eat, sleep, and raise your children. Your home is where your family sits together to enjoy Friday night dinners and celebrate Shabbat. Your home should align with your lifestyle, inspire your dreams, and capture your essence.
So how do you choose the perfect interior designer to bring your style into your home?
As a professional interior designer, I recommend asking about 3 things: the design philosophy, the process, and the services offered.
1. What is your design philosophy?
Start by hearing how the interior designer talks about design. Can you see her eyes sparkle and her voice gets excited with just the thought of creating a beautiful home for you? Will she listen to and cater to your desires, not push her design style on you? Your interior designer should infuse your preferences and understand if you like modern elegance, flashy glitter, or elegantly industrial to make your home feel like you.
Choose an interior designer that will thoughtfully select each item for your home, from the kitchen countertop, bathroom tiles, and dining room lighting to the faucets and living room curtains. The details are what make your home align with your individuality.
My clients, Debbie and Kevin, were looking for chairs in their living room. Kevin originally wanted an oversized recliner to relax in. Debbie sought a comfortable chair to curl up and read on Shabbat. By listening to their needs and exploring furniture stores, we selected two blue velvet swivel chairs with an ottoman. Debbie now has her place to snuggle and read, and Kevin can relax and and put up his feet. And the swivel chairs are multipurpose and multifunctional since Debbie and Kevin can comfortably read, watch tv, or swivel to be part of the living room when their family visits.
Select an interior designer whose philosophy is to bring your personality, heart, and soul into your home.
2. What is your design process?
In addition to design philosophy, you'll want a positive experience working with your interior designer.
Having peace of mind is essential, especially if you are outside Israel. You can choose an expert to design your home from initial plans to completion. This will give you a single point of contact if you have questions and someone who listens throughout the process.
It's a good idea to ensure your interior designer can guide you from the beginning of the process, from planning the layout and selecting items that show your individuality and style to the final steps when you receive your keys to your new home. Listening to you, calmly handling issues that arise, and taking away your stress are all part of the unique experience we offer our clients throughout our design process.
By choosing the right interior designer, the process runs smoothly from start to finish, creating an elegant home for you in Israel.
3. What services do you offer?
Just like the design process differs for each interior designer, so are the services offered. Some designers do only space planning and designs, passing the construction work to a contractor. Others specialize in selecting furniture, rugs, curtains, and knobs to add personality to your home.
You can ask each interior designer what services they offer: planning, styling, or coordinating the whole project.
Living outside Israel, you could choose to work with a single contact and select an interior designer who offers a full service from A to Z. With this complete service, you don't have to worry about coordinating with builders, suppliers, and contractors. Your interior designer will handle air conditioning, gas, and wallpaper installation, select and supervise your furniture delivery, and have your home cleaned. Your fridge is stocked with treats, ready for you after a long flight.
With full-service interior design, you'll arrive in Israel, and your designer will meet you with the keys to your comfortable and elegant home.
Choosing an interior designer
Choosing the perfect interior designer for your home in Israel isn't as challenging if you ask the right questions. You want a home that aligns with your lifestyle and is unique to your personality. Carefully consider which designer will make the design process peaceful and pleasant. You can select a designer who listens to you and is passionate about design to create your home based on your heart and soul.
Compare the services that each interior designer offers. A single point of contact can provide you with a complete service from beginning to end, reduces stress and worry, and makes you confident that everything is handled.
Why not enjoy the process of making aliyah and planning your vacation home by working with an interior designer who takes care of everything? If you want to create the elegant home in Israel you have been dreaming of, contact us to book at consultation at 052-308-9779.
Here are 7 Steps To Your Elegant & Stylish Home for more in-depth information on our design process.
Join our mailing list
to get beautiful tablescapes, design tips and so much more delivered straight to your inbox.