Home Design for the Queen Esther or King Achashverus Inside You
Posted on 6 March 2023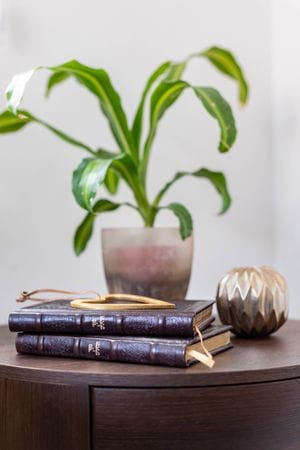 Did you ever dress as Queen Esther or King Ahashverus for Purim? You chose your prettiest flower dress with patent leather dress shoes and looked through your mother's jewelry for the perfect pearl necklace and gold bracelets to help complete your outfit. Or, as the king, a long robe to make you feel like royalty? Did you find a sparkling tiara or crown to wear?
Now that a few years have passed, the fantasy of dressing like a prince or princess may have lost its appeal. But who says your home design can't make you feel like you live in an elegant castle?
Your Purim costume needed accessories, and the same is true for your house. Selecting and arranging those pieces give unique style and beauty to complement your home's interior. Making the choices isn't always easy, so here are some home design tips for the Queen Esther or King Ahashverus inside you:
Where can you accessorize?
Almost any surface in any room can have accessories. You can place items on shelves in your living room, like small plants in beautiful ceramic pots, a few select books, or one-of-a-kind pieces you collected from your travels. A lovely glass vase or silver candlesticks on your dining room table creates interest and becomes a focal point in the space.
Is there a small chest of drawers with a few bowls, crystals, and a colorful ceramic platter when you enter your home that can give your guests a small taste of your personality? A side table is a perfect spot for decorative and artistic pieces that complement the light fixtures or other finishes in your home. Even a bottle of lotion and a soap dish in the bathroom can elevate how you feel and accent the room.
By hanging a mirror with a beautiful frame, you may make a room seem larger and create an interesting point of focus as well as give you a moment to look at yourself and smile, just as Queen Esther might have done when preparing to meet the King.
How can you elegantly arrange accessories?
Now that you have decided on a surface to accessorize and chosen a few items, how can you put it all together? You want your home to look luxurious and not chaotic and cluttered. You can start by placing the tallest item toward the back, with shorter and lower items in the front. Try to keep objects of the same metal together. If you like gold, carry through the theme with additional gold items.
Start by placing narrow items in the back and then work your way forward with wider objects. Feel free to mix and match pieces with different textures since that helps add interest. Try to group items in sets of odd numbers in color palettes that complement the space. Small items can be gathered together and placed on a lovely tray to create a beautiful display.
You can select a single object that holds a significant meaning for you, an heirloom, and create a vignette around it. If you are making aliyah and designing your home in Israel, is there a white glass candy dish that belonged to your mother that will make you feel like she's always there with you in your home? Is there a Megilat Esther that has been in your family for generations that deserves to be on display?
Design your luxury home by arranging accessories that are meaningful and personal to you and your family.
How can you add feeling to your space?
You've arranged objects on your shelves and tables which make you happy and spark memories, but how do you bring additional feeling to your couch, bed, and chairs? Choose pillows and throw blankets that are soft to the touch to create a comfortable, warm, and cozy feeling in your home. There's nothing better than resting your head on a velvet pillow as you recline on your beautiful, light-gray chenille sofa and wrap yourself in a warm blanket on a chilly Jerusalem evening.
Your home becomes visually interesting as you layer and contrast fabrics to create an aesthetic design. Mixing the furniture's materials with textures of pillows and blankets adds depth to the room as if you were painting a picture. Each material has a texture and conveys a feeling when placed close to your skin. Do you prefer thick velvet or satin and silk to make you feel luxurious and elegant?
Adding accessories of different materials create the mood in your home. Even Queen Esther must have realized how essential textiles were when she selected her royal robes to plead for our lives.
Design your home fit for royalty
Why shouldn't the home you live in be designed with classic elegance? Choose the accessories that help adorn your spaces, and you'll feel like you are living in a palace. Pick pieces that complement your furniture and your personality. Arrange them in an aesthetically pleasing way that makes each object special. Add warmth and create interest by mixing textures and fabrics to give you and your family the feeling of living in luxury.
To create a home design in the land of Israel where you'll feel like Queen Esther or King Ahashverus, living like royalty, contact me at 052-308-9779.
Join our mailing list
to get beautiful tablescapes, design tips and so much more delivered straight to your inbox.