Celebrate Lighting for Your Home and Chanukah
Posted on 18 December 2022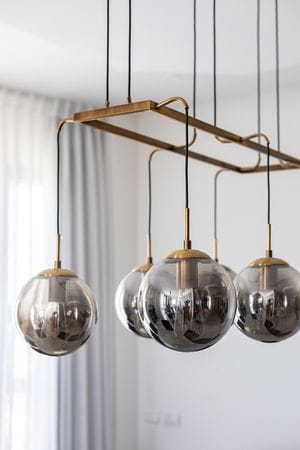 Chanukah - The festival of lights.
We banish the darkness and celebrate the miracle of the oil burning for 8 days.
We light candles and watch the flames dance.
Just as the Hanukkah candles make us festive, light plays an essential role in creating the mood in your home and adds character to every space.
Types of lighting for your home
There are 3 types of lighting. Ambient is the overall lighting in a room, task lighting is for reading and cooking, and accent lighting is a pendant light, chandelier or wall sconce that adds beauty and helps highlight a space. The combination of all 3 makes your room well-lit and full of ambiance. Even the type of bulb can change the light in your home from cold and sterile to warm and inviting.
By incorporating each type of lighting into your home, you'll be able to create the feeling, mood and ambiance you desire.
Lighting for every room in your home
You may like to sit in your comfy armchair and read in your living room. You'll want to be able to turn on the lamp nearby so that you can easily see the pages of your novel. As you read, the ceiling lights illuminate the room allowing your children to play cards together on the lush carpet. By strategically placing wall sconces for accent, you can increase the amount of light in your living room to give you more light when it's dark outside or give you just the perfect ambiance.
In your bedroom, you may be like my client, Nicky, who wants to create a more romantic setting. The light on the ceiling is enough for her and her husband to get dressed, and the night lamps by the bed are great for reading. But when Nicky feels in the mood for romance, she dims the ceiling recessed lights and turns on the long strip light by the window curtains. The soft glow fills the room, and romance is in the air.
Your kitchen needs to be well-lit. You want to be able to read the spice labels as you cook. Task lighting under the cabinet lights above the countertop is excellent for seeing exactly what you are doing. You'll also need overhead lighting to generally light the kitchen as you move around, putting groceries in the fridge and trays of cookies into the oven. Nicky's kitchen has a breakfast bar, where her family sits together before rushing off to school. A pendant light hangs above the bar, so the area is lit as everyone eats breakfast.
Selecting light fixtures that match your style
Not only is a combination of lighting recommended, but you'll want the fixture style to match your decor. If your furniture has touches of gold, you may want to select light fixtures with gold accents. However, if your dining room has accents of walnut wood in it, you may want to consider incorporating a fixture with an almost identical color. With so many different options to choose from, complementing your decor makes a difference in how well the space comes together.
It's also important to match the features in adjacent open rooms to carry the style throughout the space. The consistency will make your home feel elegant and well-designed as your eye travels from one room to another.
Create ambiance in your home with lighting
Lighting plays a significant role not only in helping to set the style of a room but to create the space's ambiance. Whether you have a sleek, modern design or ornate elegance, the light fixtures you select help define and reinforce the room's character. The combination of lights, ambient, task, and accent create interest in your home and make it unique to your style.
During this Festival of Lights, take some time to appreciate how lights play a part in setting the mood for your rooms.
May the light from the menorah bring warmth and joy into your life and your home.
Wishing you and your family a Chanukah Sameach
Join our mailing list
to get beautiful tablescapes, design tips and so much more delivered straight to your inbox.