Are You Ready To Design Your Vacation Home in Israel?
Posted on 18 July 2023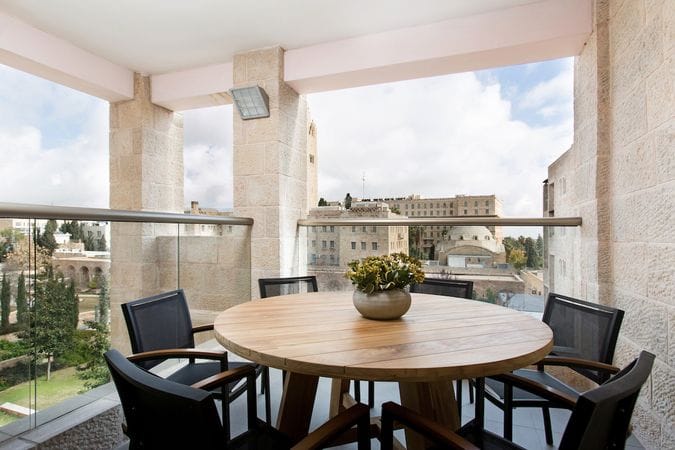 Summer is vacation time. And where better to vacation than in Israel? If you frequently visit the country, you might be tired of renting an apartment or staying in a hotel. Perhaps you're looking for a place to stay that doesn't feel stuffy or impersonal.
At the end of a busy day, you just want to come home to a comfortable place and relax. Whether you are looking in the German Colony, Efrat, or other Jerusalem neighborhoods, having a vacation home designed for your lifestyle can be precisely what you desire.
After all, what better way to spend the evening than sitting on your balcony enjoying the view of the Judean hills or overlooking Jerusalem as you sip herbal tea, unwind, and watch the sunset?
Playing with your grandchildren
A vacation home in Israel isn't only for your personal relaxation. It can also be a wonderful place to entertain the family. With married children who have made aliyah, visiting your family is a top priority.
You probably don't want to impose and stay with your kids, not to mention that you need your own space. Grandchildren are fantastic but can also be exhausting (even if you don't want to admit it). Your vacation home is an excellent place for your grandchildren to visit. And if you want to have the grandkids sleep overnight, let's design a room especially for them.
Every child should be able to be tucked into bed at night with a bedtime story when they sleep at Bubby's house and create fond memories for the rest of their lives.
Hosting for Shabbat and holidays
In addition to having a special place to play with your grandchildren, your vacation home can be designed for you to host Shabbat dinners and holiday celebrations. Cooking is pleasant when you design your kitchen with plenty of cabinets, the right appliances, and lots of light. Let's ensure you have ample counter space to knead and braid challah, mix the ingredients for kugel, and prepare your family's favorite cholent recipe.
Even if you aren't a gourmet cook, working in the kitchen is much easier and enjoyable in an elegant and comfortable environment where everything is at your fingertips.
Once you've cooked that tasty meal, you'll want a dining space that adequately seats your whole family. When designing your vacation home layout, allow for flexibility, so you can add additional tables and seating as your family grows. As a professional interior designer, I'll be happy to help you find tables that expand so your guests aren't squished together like sardines.
Designing a kitchen and dining room that aligns with your present and future lifestyle ensures that your Shabbat and holidays will be warm, inviting, and joyous celebrations.
Enabling privacy for work
Celebrating and being with family while on vacation is delightful, but you might need to carve out time for work. Whether you have Zoom meetings or projects that require focus, you probably want your vacation home to have a quiet space. Creating privacy and office space may be one of your requirements for your home design.
You might consider a separate room fully equipped with a desk, bookshelves, and a table for a printer. Or you could create an office that doubles as a bedroom. Perhaps, as I did for one of my clients, sliding doors will allow you to close the space whenever you need privacy.
Apartments in Israel are often smaller than those abroad, so exploring your options is essential to provide a solution to enable the privacy you need for work.
Designing your vacation home in Israel
A vacation home is perfect if you have family in Israel and want to have your own place to stay. Perhaps you're designing the home with thoughts of making aliyah in the future. Elegantly designed spaces let you enjoy your vacation without missing all the comforts of home. You can cook easily, host with style, and, if needed, have privacy to work.
The design of your vacation home may be similar to your current home, like one of my clients, or you can select a different style to feel like you're on holiday. Vacation in Israel is fantastic when you create a home where you can relax and invite your family and friends to visit and make lasting memories.
If you are interested in creating a comfortable and elegant vacation home in Israel where your family can enjoy being together, contact us to book a consultation at 052-308-9779.
Join our mailing list
to get beautiful tablescapes, design tips and so much more delivered straight to your inbox.