10 Ways to create a home office that will inspire productivity
Posted on 25 October 2020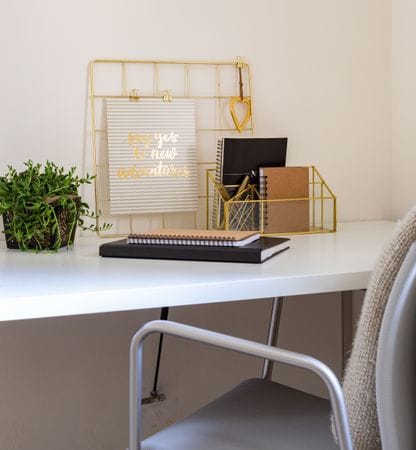 After the summer and the holidays, I needed to take some time to get myself organized and focusing on my office was the first place I had to start. Having an organized working area makes me feel fresh and allows me to manage my time and work flow more efficiently.
I need my surroundings to be organized and beautiful to help keep my creative juices flowing.I need it to be a comfortable and inspiring work environment where I can turn dreams into reality.
It seems that working from home is here to stay so I'm sharing these 10 tips so that you too can have an office that inspires productivity and creativity.
Identify your needs
The first step to a well designed home office is to make a list of all your needs. Do you need a desk with filing drawers? Do you use a printer? How about some bookshelves?
Measure and measure again
Take exact measurements including each wall, openings including the width and heights of windows and doors as well as the ceiling height. When looking for furniture or making other purchases, have these measurements handy. This will help ensure you purchase the right size furniture and the correct quantities of the different supplies you need.
Plan your space
Plan your space taking function into consideration. Answer these questions for yourself:
Where will you put the desk, bookcase, filing cabinet and printer?
Electronics
Make sure you have sufficient electrical for your computer, printer, external drives and any other electronics you use. Your computer and printer should be handy and easily accessible. And you should have adequate shelving.
Organization
Make sure you have everything you need to keep your office clean and tidy. Organizational trays are great for documents and files you need to keep handy. A supplies caddy keeps pens and paper clips organized.
A comfortable and supportive chair
Invest in a comfortable and supportive chair which is conducive to good posture and comfort.
Proper lighting
Appropriate and functional lighting is essential when working. There are so many stylish possibilities available. Adding a decorative desk lamp will add the additional layer of task lighting that is recommended and that will add an impact.
Add color or texture to your walls
There are so many ways to add color and texture. Painting and wallpapering are popular options. Think outside the box and incorporate other materials
Hang a quote
Hang a framed quote that resonates with you and inspires creativity.
Bring in life
A small plant on your desk in a colorful planter will bring in natural and live elements that are sure to add a healthy boost of happiness.
Check Out Our


Latest Articles
Join our mailing list
to get beautiful tablescapes, design tips and so much more delivered straight to your inbox.